Fight for Racial Justice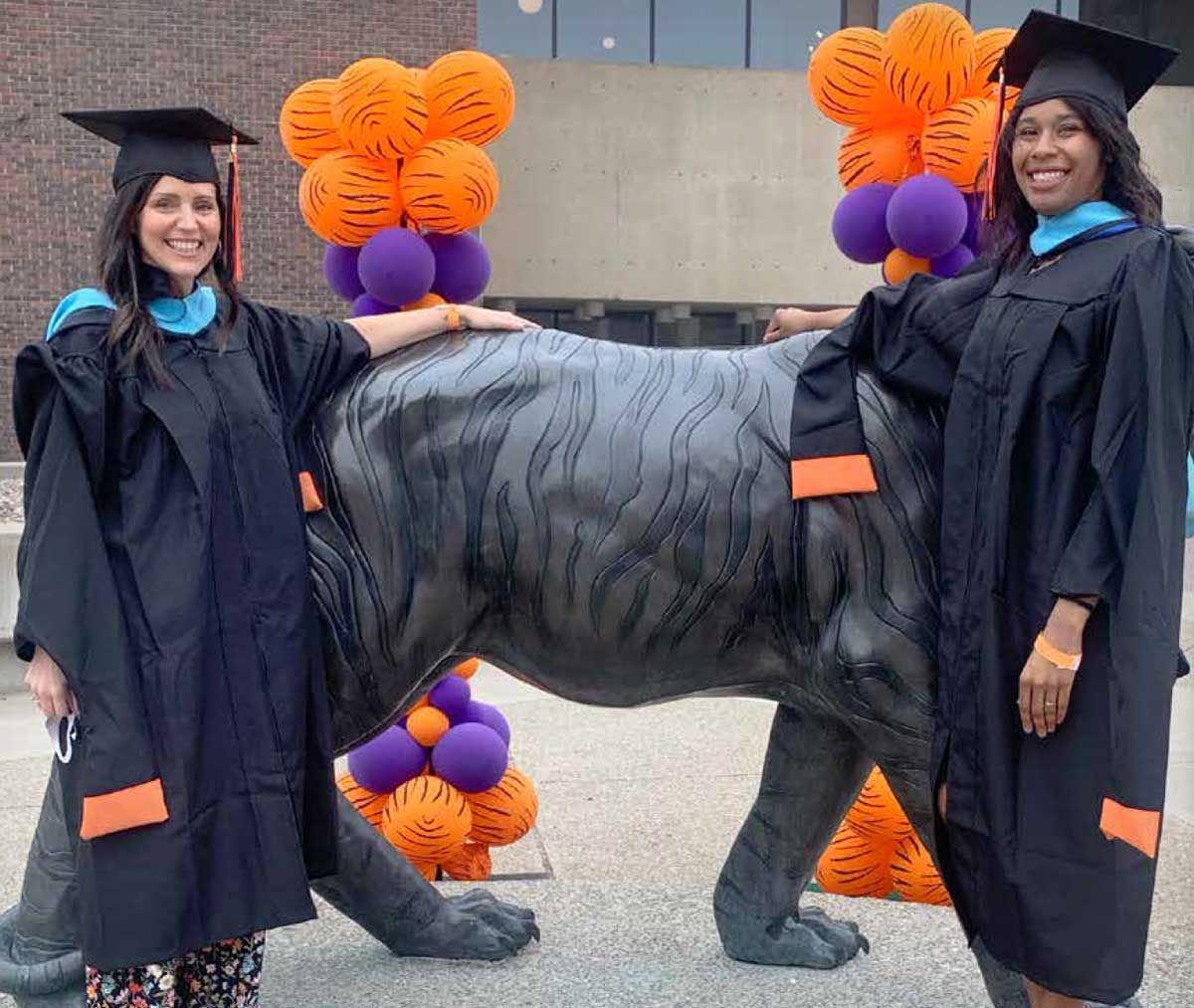 Buffalo Teachers Federation members Jenna Rivera, left, and Kylene Holmes, both former teaching assistants, graduated with master's degrees from Buffalo State College and are now first-year teachers in Buffalo City Schools. The pipeline program is supported by both the Buffalo TF, led by Phil Rumore, and the Buffalo Educational Support Team, led by JoAnn Sweat.
Home-Grown Programs Tackle the Teacher Shortage
by Sylvia Saunders
SHARE:
A pair of pilot "Grow Your Own" programs in Buffalo are already sprouting an impressive number of new and aspiring teachers.
Former teaching assistants Kylene Holmes and Jenna Rivera are now first-year teachers in Buffalo City Schools, thanks to a union-backed pipeline program through Buffalo State College.
"It was an amazing opportunity because it allowed me to keep working as a teaching assistant while completing the teacher prep program," said Rivera, whose love of working seven years as a pre-K teaching assistant convinced her to pursue a teaching degree. "I was so lucky to be a part of the pipeline program," Holmes said. "As a single parent, I thought it would be nearly impossible to go back to school for my master's in teaching. The program was so helpful because our schedule was very accommodating and we worked at our own pace."
Both Rivera and Holmes were able to complete the twoyear graduate program by attending classes year-round, evenings and Saturdays. Their student teaching experience dovetailed with their teaching assistant duties so they were able to continue their TA employment. The statefunded program, which includes about two dozen other Buffalo TAs and aides, also covers tuition, books and vouchers for state certification exams.
"It makes sense to recruit from the ranks of teaching assistants and aides because we already have extensive experience working in schools," Rivera said. "We love kids, plus we know what we're getting into!"
Rivera, who attended Buffalo City Schools herself, thinks it's important for students to have teachers with similar backgrounds. Home-grown teachers can be a positive role model for all students, whether it's in big-city schools or rural districts. Studies have shown retention is also better for GYO graduates. Buffalo's other state-funded pipeline program, the Urban Teacher Academy, is also having early success.
The Career and Technical Education program at McKinley High School just graduated its first class of high school students, with several choosing teacher education majors in college. The four-year high school program offers education career exploration, job shadowing and teaching/community service opportunities. In their senior year, students can take collegelevel courses and work toward being accepted at Buffalo State as education majors. With support from Assembly Majority Leader Crystal Peoples-Stokes, Buffalo City Schools are working hard to expand and diversify the educator workforce. According to a State Education Department report, while two-thirds of Buffalo's enrollment are students of color, only 14 percent of the workforce are teachers of color.
"The lack of diversity is a statewide problem that has to be addressed," said NYSUT Executive Vice President Jolene T. DiBrango, who leads the union's Take a Look at Teaching initiative. "As we tackle the teacher shortage, GYO programs like Buffalo's should be promoted and expanded."
Future Forward Task Force Recommendation
The 2022-23 state budget should include $500,000 to provide grants to assist school districts with establishing and growing educator pipeline initiatives, such as GYO programs, and developing collaborations with established New York state programs that have a proven track record of engaging students of color. School districts must also review and update their hiring practices and work to identify and remove any obstacles or hurdles that create barriers to educators of color.
The 2022-23 State Budget should include an additional $5 million to expand the successful Teacher Opportunity Corps to expand the number of diverse teacher candidates available to be hired by districts throughout New York State.
As part of the State Fiscal Year 2022-2023 budget, New York should allocate $20 million to provide scholarship opportunities to potential educators.
New York State should provide $30 million for the creation of programs to support career ladders, career changers, fellowship and residency programs.
As part of the State Fiscal Year 2022-2023 budget, the Regents request of $1.5 million for staffing should be adopted to improve the teacher certification process.