Support Students' Social-Emotional Needs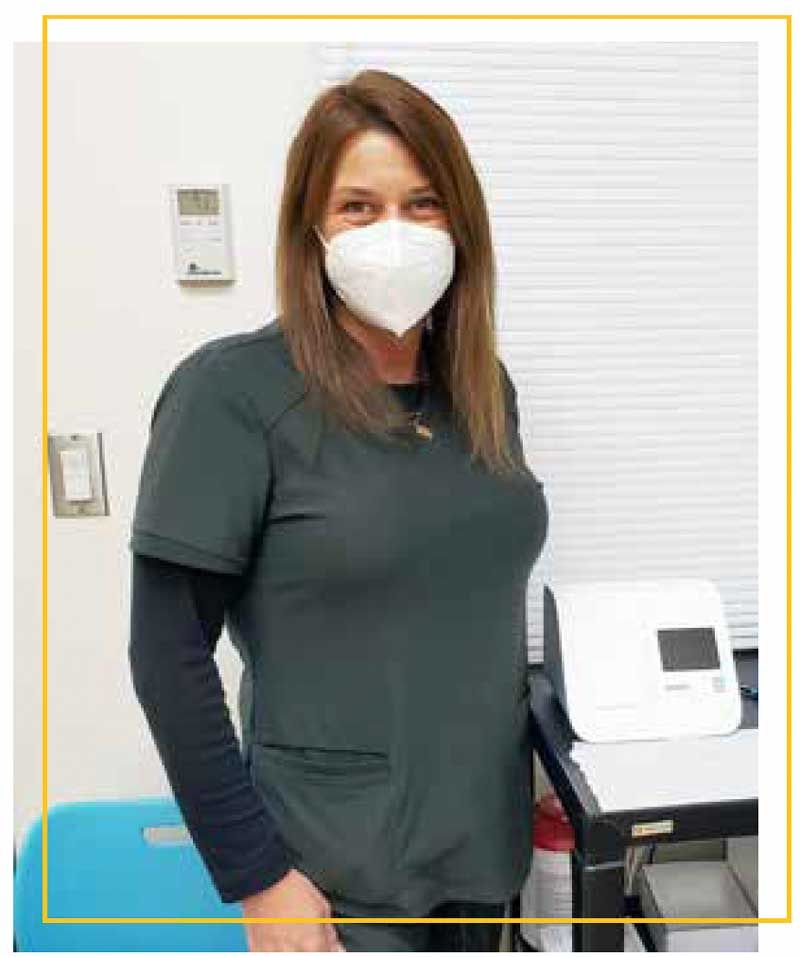 Salmon River school nurse Melanie Cunningham shows the school's COVID-19 rapid testing machine that returns results in 15 minutes versus two to three days.
From the Front Lines:
Every School Building Needs a Nurse
by Liza Frenette
SHARE:
COVID-19 is nearing the two-year mark, and school nurses are nearing exhaustion with the extra demands it has put on their work.
"The job has changed immensely, state testing has increased, psych-social issues have increased, and now COVID," said Jody Barnes, a school nurse with the North Syracuse Education Association.
"Fifty percent of our job is now related to COVID. We start our day reviewing emails, COVID results and making follow-up phone calls. We have referred 593 students for COVID testing."
That work is on top of treating injuries; handing out medications for asthma, diabetes or ADHD; testing eyesight and hearing; calling parents when a student is out sick; tracking required physicals; approving athletes for sports participation; tube feedings, catheterizations, and more. In nearby Fayetteville-Manlius, school nurse Kimberly Welling agreed.
"We have a lot more demands, more fragile students with serious health needs, and also more responsibilities with COVID," Welling said. She and Barnes both serve on NYSUT's Health Care Professionals Council. Burgeoning responsiblities like these are why the statewide union's Future Forward Task Force recommends a renewed call for legislation requiring a registered nurse in every school building.
"We are 100 percent on board to have a school nurse in every building," said Cynthia Bennett, a school nurse in Queens and school nurse representative for the United Federation of Teachers. "The nurses' spirits are broken."
Even before the coronavirus pandemic there were not enough permanent nurses in the city's public schools. Massive numbers of nursing positions have been filled with agency nurses, many of them right out of school without training, said Bennett, adding that agency nurses do not perform the detailed information logging and tracking required by school nurses.
Turnover is also a problem. Bennett said her school recently went through 60 agency nurses in less than a school year. Due to emergency situations in nurse staffing, agency nurses are hired at $100 an hour. Meanwhile, schools have trouble keeping permanent nurses because of low pay. School nurses are crucial to deal with increased demands due to the pandemic. Melanie Cunningham, Salmon River TA, is an elementary school nurse for 380 children in Franklin County. Without her position, the students would have to rely on the middle and high school nurses, who would have to toggle between them and the hundreds of students they already care for.
Thanks to a grant, the school was able to secure a rapid testing machine. If a student tests positive for COVID-19, they are masked and set up in a quarantine isolation room until they are picked up from school. Nurses use a seating chart from teachers and from the cafeteria, as well as security footage, to determine who the student was in close contact with. Those students and families then have to be notified.
"We work closely with the county," Cunningham said. Laurie Grimaldi of the Uniondale School Registered Nurse Association works with preschool classes and students who are new to the district. She has had 1,700 new students a year for the past six years, she said. Many of the new students speak Haitian Creole or Spanish, and she uses a translator on her phone to communicate.
"We do have a school nurse in every building, but COVID has brought us over the hill with requirements," she said. Initial contact tracing for students and staff consumed the whole day, she said, and tracking is now limited to students.
"At the high school it's daily. It's hourly," she said.
Future Forward Task Force Recommendation
Schools must be provided the resources to fully fund counseling and mental health staff to meet the growing needs of students and families and further mitigate the ongoing impact of the COVID-19 pandemic. Programs that support English language learners and special education students must be fully staffed to adequately assist children with increased needs as they return to post-pandemic learning.
To ensure that such staffing is in place, the Task Force recommends enactment of the following state legislation:
Require schools to employ at least one full-time social worker and at least one licensed school psychologist (S.1969 Jackson/A.5019 González-Rojas)
Require schools to employ at least one school counselor (S.831 Gounardes/ A.7473 Clark)
Ensure that all public school districts and boards of cooperative educational services employ at least one registered professional nurse in each school building (S.4782 Jackson/A.666 Cahill)